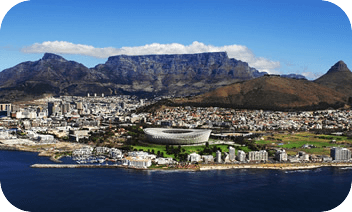 For many years now the traditional destinations for offshore digital outsourcing, typically for services such as web and app development, search engine optimisation and paid marketing have been India and Eastern Europe. The primary driver for companies to outsource to these locations is cost. Eastern Europe and especially India is seen as having a large digital workforce that is happy to provide services at a fraction of the price of their European or American counterparts.
With the falling Rand (cue #NeneGate, #NkandlaGate, #SpyTapes et. al.) most South African companies are looking at earning hard currency. Digital companies are particularly well placed to do so; by taking on these traditional offshore digital outsourcing locations, with some clear and unique differentiators.
Our falling currency has made our rates extremely competitive
Typical hourly rates for high quality, non-freelance digital work range from R 600 to R 900 p/h. When converted to USD or EUR, this is exceptionally competitive.
We have a favourable time zone
GMT+2 is a fairly accommodating time zone. At Lima Bean, we have clients in America (meetings are held after 4pm for us. No problem), Europe (no problem at all) and Australia (meetings are held early in the morning).
We speak English natively as a first language
When dealing with offshore providers it is absolutely imperative that communication is clear and unambiguous. A typical digital project will usually entail complex, nuanced requirements that the client needs to communicate to the provider. Even seemingly minor things that are "lost in translation" can have major consequences. In South Africa, the work place language of choice is English and is spoken as a first language by most "digital employees" (even if many are bi-lingual).
Culture fit
When looking at engaging with an offshore provider on more than just basic development tasks such as converting Photoshop designs to HTML (e.g conceptualising and designing a website from scratch, planning and executing creative, marketing or email campaigns or building a complex web application or app), the understanding of the culture and context of the work is important. One cannot effectively do work in these areas without having an innate understanding of the culture of the people that will engage with the work. It's simply impossible. While South Africans are African, our diverse society leads us to understand and be sensitive to different cultures.
Strategic thinking
This is probably the biggest differentiator when using South African based companies compared to those in traditional outsourcing destinations. We can add value at the highest possible level. South African digital companies have consistently shown the ability to deliver world class digital work. Our companies are not just seen as "brick layers" (pure development houses), but as organisations that can be engaged with to add value at a strategic level.
At Lima Bean, we have established excellent, long standing working relationships with clients in Australia, Germany, UK, USA and Dubai. Our office is set-up to seamlessly communicate with overseas clients and our processes are geared to giving them comfort that the physical distance between us makes no material difference. We speak their language, we understand their requirements and our work (and that of many other South African digital companies) is on par with the highest international standards.
We earn foreign currency and our international clients get exceptional work at a lower price. Win-Win!
Contact us for an initial chat.